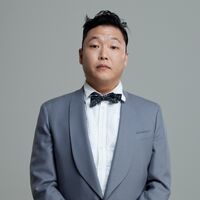 Park Jae-sang is a South Korean singer-songwriter, rapper, dance musician and record producer better known by his stage name, Psy. His Gangnam Style music video is the most viewed K-pop video on YouTube. Still growing rapidly, the video recently surpassed 857 million views on November 30th, 2012, breaking Justin Bieber's Baby as the most viewed video ever. The video also has reached 1 billion views on December 21st, 2012, becoming the first to do so.
Biography
Edit
His name spelled in Hangul is 박재상 (PSY is 싸이), and he was born December 31, 1977. After school in South Korea, Psy went on to attend both Boston University and Berklee College of Music. He served his mandatory military service from 2003 to 2005, but, after evidence came to light that suggested Psy didn't properly serve his full term of service, he was re-drafted to serve a second term in August 2007.
On October 14, 2006, Psy married Yoo Hye Yeon (his girlfriend for 3 and half years) and had two daughters that were born two months before he started his second military service term.
Psy debuted in January 2001 with his full-length album titled PSY... From the Psycho World!, for which he later had to pay a fine due to accusations that the album contained "inappropriate content". He was a rookie hip-hop singer that stirred up the Korean pop music scene with very blunt lyrics, peculiar dance moves and an unconventional appearance, and, because of his unique style, he was nicknamed the 'Bizarre Singer'.
He released 2 more albums, but, when his agency began to struggle financially, Psy's wife encouraged him to join YG Entertainment, under who he released Gangnam Style in 2012. Psy has also written many hit songs of various genres for different singers. His most famous composition perhaps is Lee Seung Ki's debut song Because You Are My Woman.
Gangnam StyleEdit
In 2012, the choreography for Psy's song "Gangnam Style" was highlighted in international news and became a viral hit. On September 14, 2012, he appeared on The Today Show on NBC in New York, performing the song live and teaching dance moves to the anchors. The following day, he also made a cameo appearance on Saturday Night Live during a skit featuring Gangnam Style.
When asked about the success of the song, Psy said, "When I realized that some top stars like have imagined or tweeted about me, I thought, 'That's joking. That's not gonna happen...' I never expect things like this, not because they are top stars, but because this is the biggest market in the universe for pop music, right, so everybody's dreaming about having appearance in the U.S. so I'm still saying, 'What going on here? This is beautiful.'"
Riding from the success of Gangnam Style, Psy was signed by Scooter Braun to Schoolboy Records, part of Universal Republic.
Community content is available under
CC-BY-SA
unless otherwise noted.